Success Story of Delberin Ali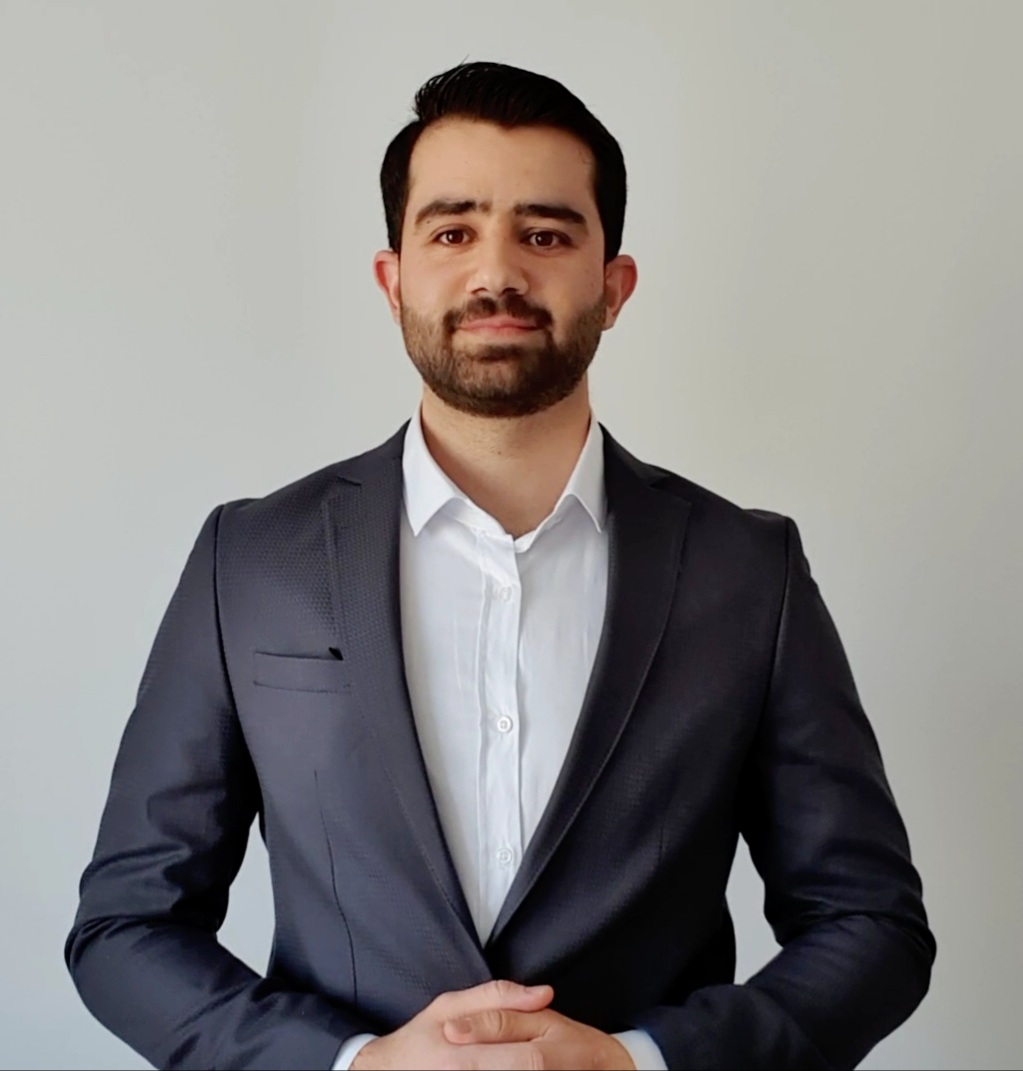 I went further and I survived. I did it.
Seeing his father never give up made him the person he is today.
Software Developer and Researcher at Institut für Data Science FHNW, Alumnus Powercoders
February 2023
Delberin Ali is a bright 30 years old man, who lives in Bern, and arrived in Switzerland in 2016. You sense that he has seen a lot in his young life. And you wonder how he grew into this friendly, mature, and hard-working man with that warm smile you see before you.
Back then in Syria
He wanted to study IT in Syria, but couldn't because of the situation there. So, he studied petrol engineering but unfortunately couldn't finish his studies because of the war.
Twelve years ago, he had to escape from Syria because he was forced to join military service. Additionally, he was also threatened by some groups because he was working with his father.
Further and further away from home
"In the beginning, everybody thought everything would go back to normal in a few months", he remembers. He first moved to Northern Iraq, now Kurdistan, and tried to continue his studies there. Again, because he is a Kurd from Syria, he was not accepted and received no support. He moved to Turkey, where he faced again the same story: Being a Kurd, he wasn't accepted to study. He lived there for 2 years, and worked in restaurants but had no perspective. That's when he decided to move to Europe, where he had many relatives.
Escaping to Europe: Never giving up.
His risky and strenuous journey to Switzerland took around 20 days. "Crossing the border between Turkey and Syria was very dangerous," he says. "It was cold, December, my knee was injured, and I was alone. It was so scary. The Turkish military shot at me; I heard the sniper behind my head. They thought they had killed me. I went further, and I survived. I did it. I could have died many times. But I didn't. I made it."
Later he was stuck in Greece for days. At the border of Serbia, he was stopped again. "We had to sleep on the cold floor, even the kids. We were treated really badly", he says. Despite adverse conditions, he learned to make the best of every situation. More and more often, he found himself in the role of a translator, helping people to communicate with each other because he spoke Kurdish, Arabic, a bit of Turkish, and English (and is now fluent in German).
"Giving up was not an option. I learned that from my father." His father, who was politically active in Syria and got arrested many times, never gave up to fight for his rights. Since Delberin was driving him around and spent a lot of time with him, he saw all of it, "Seeing him not giving up has formed me into the person that I am today", he says. "All the problems we are facing now, financially or emotionally, are nothing compared to what I went through on my escape."
Arriving in Switzerland: Translating and cooking.
When Delberin came to Switzerland, he was housed in camps for Asylum seekers. There he soon became a frequent translator again. Even the police often asked him for help. He soon gained their trust, and they gave him a key to the office at the camp and asked him out to have coffee with them. "Until now, I have been translated for people. If I can't go by myself, I send someone else", he says proudly.
Delberin has five brothers and two sisters. He came to Switzerland with two of his brothers. He lives with one of them, the other lives only five minutes away from him. His uncle and cousins are his neighbors. Delberin loves to cook, it's always been a hobby for him. He invites his relatives and neighbors over to eat at his place. "I want to share it with others, when I cook something delicious", he says with a generous smile.
Building a career with Powercoders
Delberin started his internship in 2021 after a Powercoders Bootcamp 2020 and secured an internship at the Institut für Data Science FHNW. He wanted to study part-time at the University but didn't pass the German test by a few points, since they recently changed the requirements of the German level from B2 to C1. Luckily, his supervisor and the manager of Institut for Data Science, André Csillaghy, has been really helpful and supported him on all levels. He prolonged the internship and helped him get a B-permit. As of February this year, Delberin got a permanent job offer!
It looks like Delberin is getting closer to his dreams step by step with a lot of perseverance, determination, and hard work. Last summer, he started working 50% part-time and studying part-time at the Bern University of Applied Sciences.
"The refugee from Syria"
How does he feel at his workplace? "In the beginning, it was a bit hard, I felt like I had the stigma of being a «refugee from Syria». But after a few weeks, we got to know each other, and I did everything I could, so they could see me as their colleague. Now we are friends and close colleagues here. We've become like family. We meet in our free time and we cook together", he says.
"They always take care of me", he continues. "Last month we did a fondue, which was originally planned with alcohol. They made one without alcohol for me. They said they would cancel it if I didn't come. They're aware of my values and respect them. I respect them, they respect me."
Advice #1 for newcomers
"There are many obstacles when you start your career here in Switzerland as a newcomer", he says. "At Powercoders, your job coach is there to help you. Make friends with them, don't make it too formal. Be free to express yourself. It will help you to achieve your goals."
In his experience, the first day of your internship is the most important day. He advises interns to come emotionally and mentally prepared. He asked his job coach, Fabian Sturz, to come with him on his first day, which turned out to be very helpful. "I didn't know the Swiss Culture. I was stressed about it", Delberin shares. His job coach came to the 1st meeting with Delberin's supervisor. "Fabian gave me the confidence to talk about everything – my wishes, my expectations, my fears. He is a senior developer. He knows the field. He helped me a lot personally and technically. We are like friends. We go out and eat together. Furthermore, we are both foodies." Since Fabian has been abroad for one year, Delberin now has another job coach, who has also become a good friend.
Advice #2 for newcomers
"Don't expect of yourself that you finish all the tasks perfectly in the first weeks. Don't overdo it, if you can't finish, ask for help, but first try yourself", Delberin says. He knows what he's talking about since he did this mistake himself. He had set too high expectations for himself. He wanted to prove himself to his team and his supervisor and gave it all. But he realized that they couldn't evaluate his actual level and would overestimate him if he put in all these extra hours. So: "Just be yourself. Don't overwork, show your real level, give effort, but don't spend all your energy, you will need enough energy in the next months."
Thank you, Delberin for your wise words and for sharing your story openly with us. You are an inspiration to us all, and we wish you lots of happiness and success in your future!